Dream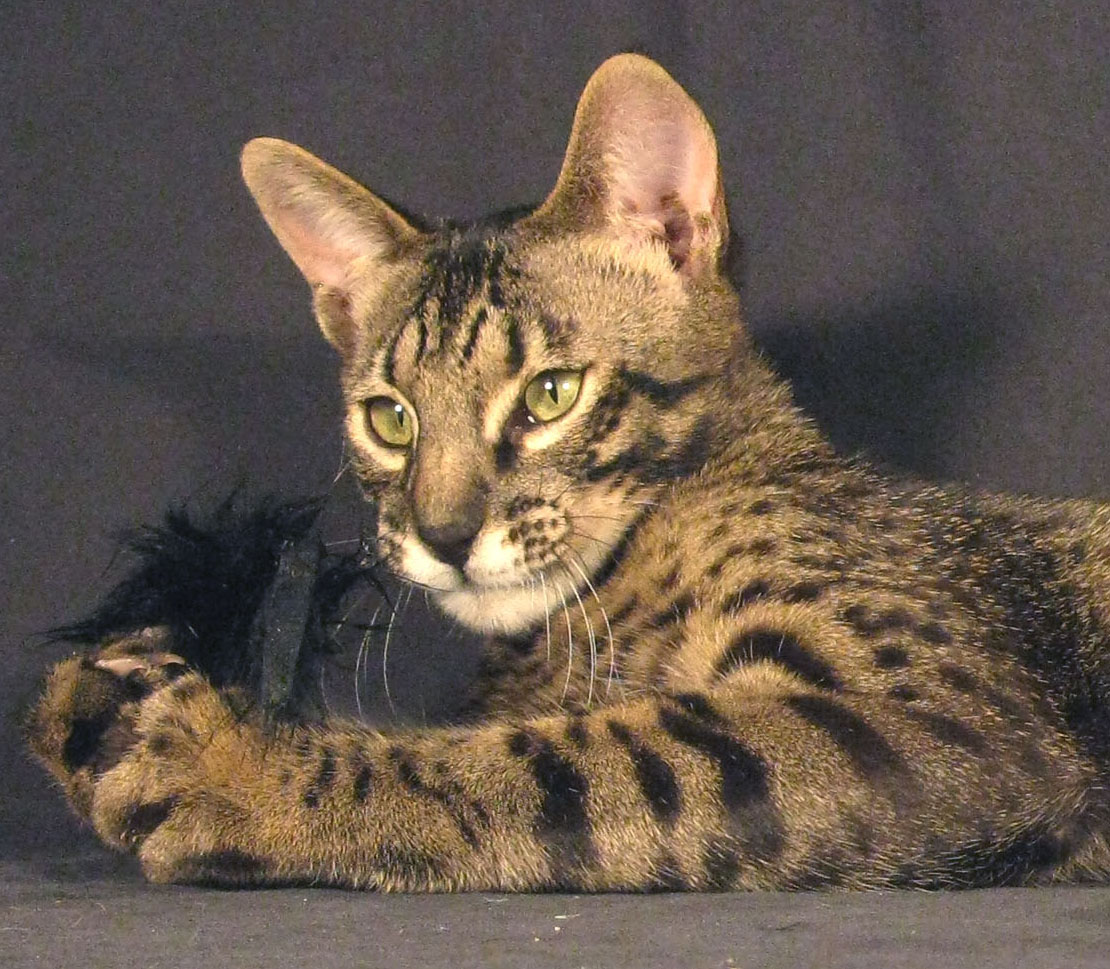 Dream comes to me from Kelly Sheppard of Wyldthingz in California. When I came across his photo, I had gone onto Kelly's site to look at his sister that she had posted. When I saw his picture my jaw dropped and my heart lept into my throat. Here was the stud I had been waiting patiently for.
For quite some time I've wanted to bring in a stud that has a black nose. I needed a male with excellent contrast, coat clarity and well defined spotting. I was also looking for a male that was Melanistic or carried for Melanistic. I wanted all these things but also didn't want to sacrifice type for markings. Of course I dreamed about finding the perfect (or near perfect) stud that had all these things in one cat, but I never dreamed he actually existed!
What can I say about Dream, he's just so amazing! He has generations of black noses in his pedigree, his mother is black so he carries for melanistic. His coat and pattern are fantastic, and he should offset my girls' ticking and lack of contrast very well. He has a servally shaped nose, small hooded eyes, and wonderful head shape. His ears are upright and rounded, and he has good leg length. His type is different enough to offset the Oriental Shorthair influence in my girls' pedigrees, but not so different that he is outside my goals and taste. He retains and brings in many of the features I am focused on.

To say that I am thrilled to have him in my program is a gross understatement. I am chomping at the bit for him to grow up and sire some litters with my girls. I am especially hoping that he and Imani will give me a gorgeous melanistic girl! I am eternally grateful that Kelly has entrusted Dream to us here at Spidersweb.
Dream is an F6SBT Brown (Black) Spotted Tabby born September 7th, 2010 out of Wyldthingz Spyder Monkey (Black, Dam) and Halestone Magnetik of Wyldthinz (Brown (Black) spotted, Sire).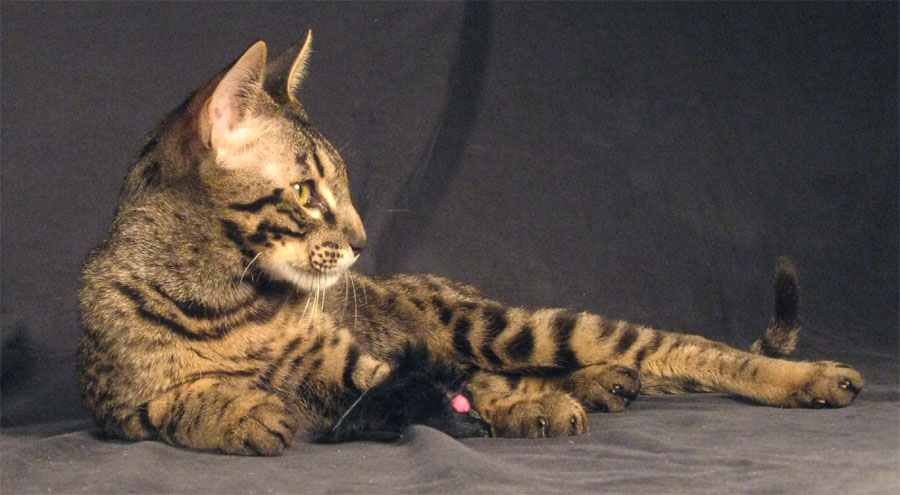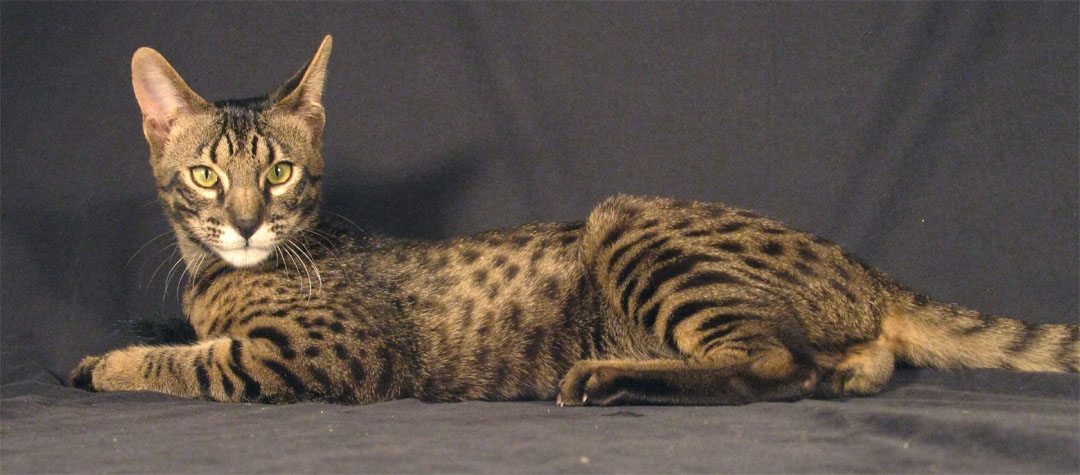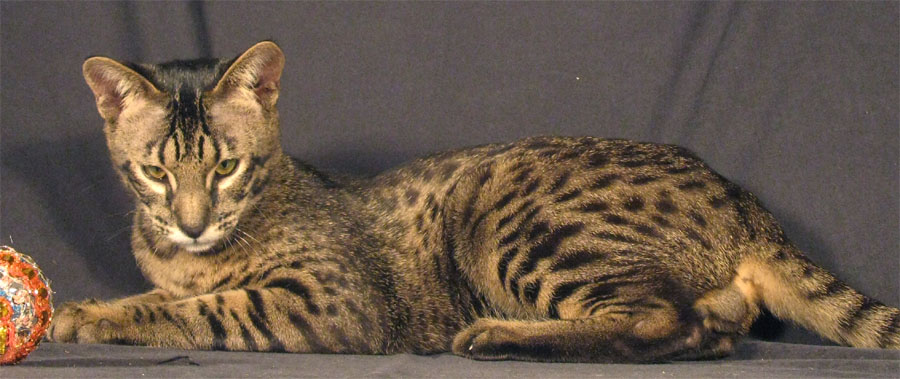 Flashdance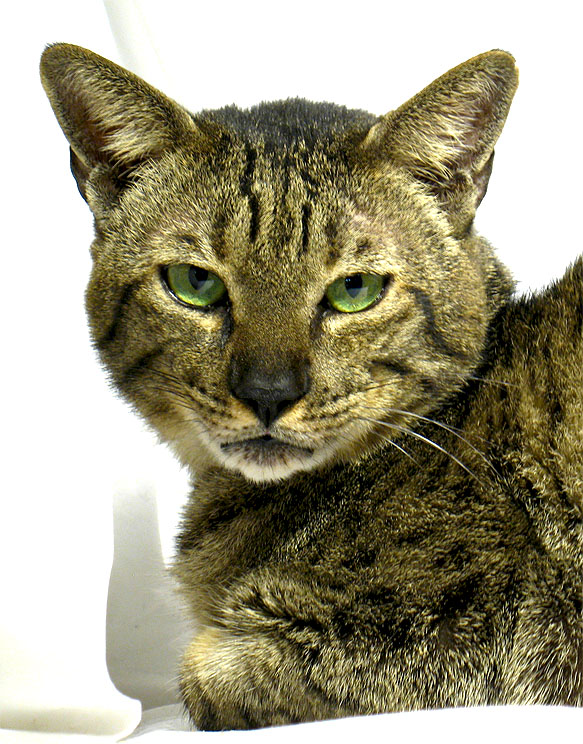 This boy was bred by Joyce Sroufe, one of the originators of the Savannah breed. Flash has been contributing to the savannah gene pool for a long time now; he has certainly left his impression on our breed, and been a part of many different breeding programs. He will be ending his long and successful stud career here at Spidersweb, and then enjoy his retirement as a pampered pet with us.
Even at 9 years of age, he still has much to offer the breed, and has no trouble breeding the girls. He has quite good leg length, good eye shape, large rounded ears, and a nice wide black nose. We are hoping to produce a new line here at Spidersweb with the retirement of several of our girls through Flash's great genes. Maybe we'll be lucky and get some nice typey black-nosed babies.
Unfortunately he was never properly socialized, so is quite shy. Therefore it is difficult to get good photos of him. He's a gentle soul though, and passes on an outgoing and super friendly temperament to his offspring.
Flash is an F6B Brown (Black) Spotted Tabby born December 29th, 2003 out of Newhorizon Direct Effect (F5A, Dam) and A1Savannahs Ebony Liberty (F6B, Sire).
NOTE - FLASH WAS BRED BY JOYCE SROUFE WELL BEFORE SHE SOLD A1SAVANNAHS TO THE STUCKIS.